News
Published 27. August 2021
Polarteknik has today launched Smart Partition Wall, an all-new solution for railway passenger compartment division. Through a one-piece combination of a partition wall, a modern 55" OLED display and a cyber secure door control unit, the solution meets the customer-driven need for increased onboard safety, compliance and travel comfort.
Released today, Polarteknik's Smart Partition Wall is a one-piece solution for railway rolling stock that combines compartment partition with onboard information and entertainment. Customer-tailored to meet international and national requirements, the solution is aimed for the global markets.
"We can see clear customer demand for more cyber secure and IoT ready solutions, and Smart Partition Wall is here to address these needs. In addition to its comprehensive technical and compliance assets, the inbuilt 55-inch OLED display allows for effortless onboard information provision and entertainment", says Polarteknik's Managing Director Tomi Ojala.
The solution is designed and manufactured by Polarteknik and it fits various train configurations. Several variables allow for tailoring according to customer needs and preferences, including door drive location and direction, dimensions, surface treatment and compliance validation. The solution addresses customer needs related to acoustics and privacy, air conditioning, visuality and travel comfort.
"Polarteknik Smart partition is Cyber ready in terms of the door operation, communication and maintenance capabilities with the NEW D56 Door controller. The door drive is the same high quality, low LCC unit Polarteknik customers have enjoyed for years and the new control unit brings on the new possibilities of data driven added values like predictive maintenance and centralized software updates",  says Business Development Director Mika Korhonen.
"Exposure to customers so far has produced a highly positive welcome. Our customers are looking to have more benefits packed in fewer elements, and that is exactly what we now bring onto the market", Korhonen says.
Smart Partition Wall is available for orders starting 27 August 2021.
For more information, please contact:
Tomi Ojala, Managing Director
Phone: +358 207 709 521
Mika Korhonen, Business Development Director
Phone: +358 207 709 569
Published 30. June 2021
We are pleased to announce Gregor Dalziel appointed as the new Managing Director, reporting to Company Director Tomi Ojala, to lead the business going forward from 1st of July 2021.
Gregor brings a history of management and engineering experience gained in the Railway and Engineering industry. Having recently returned to the UK from working overseas we are excited to welcome him to our business and providing him the necessary support to ensure our continued success.
"Train Door Solutions is a company with experienced and competent employees who provide high quality products and world-class service to a number of leading customers in the UK railway industry. I am much looking forward to, together with the team, continue to develop the Company.", says Gregor Dalziel.
"Polarteknik is very excited to develop Train Door Solutions created by Nigel Mason and his team. I have great confidence that Gregor will lead TDS to a strong growing company for its' existing and new customers.", says Tomi Ojala, Company Director of Train Door Solutions.
Nigel Mason will support the appointment of our new Managing Director and undertake the role of Sales and Marketing Manager until the end of the year. Vanessa Mason will continue to act as Company Secretary and manage the transition of Finance responsibility to Kerry Nunn as Finance Officer.
For more information, please contact:
Tomi Ojala
Company Director of Train Door Solutions Ltd
CEO of Polarteknik Oy
Phone: +358 40 5947 122
tomi.ojala@polarteknik.fi
Published 10. February 2021
Polarteknik is taking part in Fire Protection of Rolling Stock virtual conference 2021 taking place 24th-25th February, 2021.
Building on several years of success, the conference brings together key global rolling stock operators and manufacturers along with leading component and material suppliers for 2 days of shared insight across the biggest challenges and opportunities in the sector. Attendees will discover key regulatory updates, emerging rail developments across the globe, and technology advancing the industry, gaining new ideas and inspiration to take back to their organisations to improve overall safety.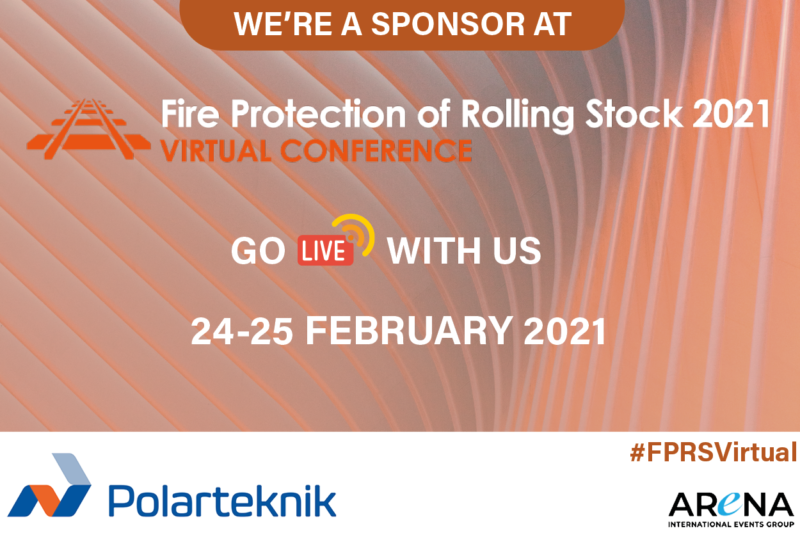 Polarteknik will feature it`s expertise as one of the leading fire barrier experts in Railway Rolling Stock and presents a case study of a Light weight-Low formation-Low smoke E30 fire barrier door and discuss lessons learned from working on fire risk in rolling stock.
Please be sure to register to attend and tune in for our speaking slot on February 25th at 10:15 CET
If you happen to miss the event the material can be obtained by connecting us during or after the event at info@polarteknik.fi 
Published 10. February 2021
Dear Customers,
Thank you for attending the yearly customer survey questionnaire. Your feedback is enormously valuable! For all of you and especially those of you who did not have the time or opportunity to respond this time we welcome your free response in every encounter and invite your comments on how to work in a way that even better meets your expectations.
Overall the results were very good and it seems we have been able to gain your confidence and satisfaction in many aspects of our activities. Especially the product technical quality and employee engagement are seen to be on a very high level. Thank you for your feedback.
NPS (Net Promoter Score) of 40 is a very good result
Overall satisfaction customer index 81% is very good
In the activities and for the customers where we have failed to meed expectation we will carefully visit the comments given, analyze them and come back to you to work on improvement points.
The activity that requires the most work and improvement from us is flexibility in change management. We will work on it to bring it to the same level as our other functions. We hope that you see a good change in the next months and years to follow.
Yearly survey is an ongoing process for us for 3 years in this format. It will be supported by a more project specific transactional survey where we will be able to dive deeper into the disciplines such as, tendering, design and project management.
Polarteknik Oy