News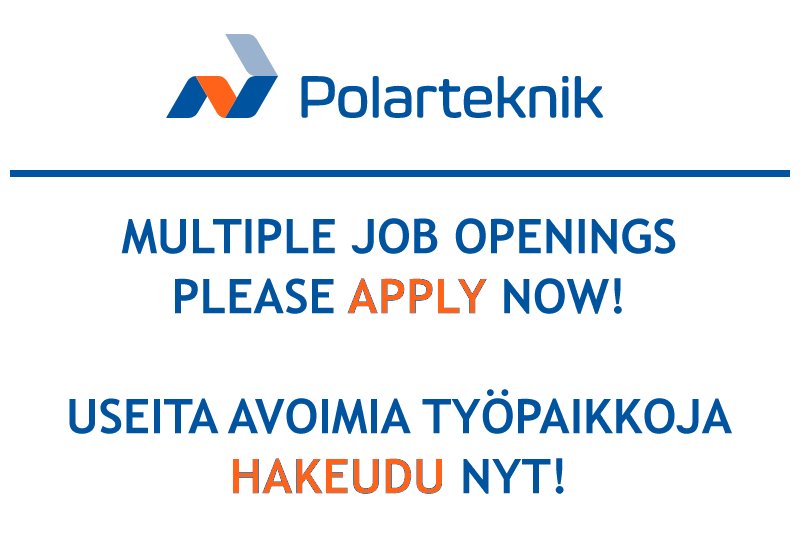 Monia avoimia työpaikkoja – lue lisää
Meillä on nyt useita avoimia työpaikkoja
Polarteknik Oy tunnetaan perinteisesti innovatiivisuudestaan ja kyvystään räätälöidä asiakaslähtöisiä ratkaisuja suurille maailmanlaajuisille raidealan toimijoille ympäri maailmaa. Polarteknikin valikoima ulottuu standardituotteista tilauskohtaisesti valmistettaviin järjestelmiin. Huittisissa suunnitellaan ja valmistetaan ovijärjestelmiä rautatiekalustoon, ja ne suunnitellaan aina asiakaskohtaisesti kansainvälisten ja kansallisten vaatimusten mukaisesti. Polarteknik on Euroopan johtava raidekaluston ovijärjestelmien toimittaja.
Polarteknik kuuluu pohjoismaiseen Dacke Industri Ab -konserniin. Dacke Industri on pitkäaikaiseen omistamiseen tähtäävä yhtiö, joka sijoittaa innovatiivisiin teknologiayrityksiin, jotka keskittyvät ensisijaisesti räätälöityihin ja laadukkaisiin komponentteihin ja järjestelmiin. Yhtiö tarjoaa asiantuntemusta, vahvan verkoston sekä strategista ohjausta vastuullisten ja kestävän kehityksen mukaisten yritysten rakentamiseen pitkällä aikavälillä. Yhtiö noudattaa omistamiensa yritysten osalta hajautettua mallia, jossa konserniin kuuluvilla yrityksillä on suuri autonomia ja niitä johdetaan itsenäisesti. Nordstjernan on omistanut Dacke Industrin vuodesta 2016 alkaen. Nykyään Dacke Industrilla on 17 tytäryhtiötä ja liikevaihto ylittää 400 miljoonaa euroa.
Managing Director
This position has closed for applications April 11th 2023. The position has been filled.
Tämä haku umpeutui 11.4.2023. Tehtävä on täytetty.
Tehdaspäällikkö
Tämä haku umpeutui 31.3.2023. Tehtävä on täytetty.
Projektipäällikkö
Tämä haku umpeutui 17.4.2023. Tehtävä on täytetty.
Polarteknik is a high-end technology company that promotes comprehensive comfort and ecology in railway transport. Our strengths include wide-ranging knowledge, in-depth expertise, and long-term commitment.
We deliver reliable, sustainable and efficiently produced interior door systems for the world's leading train manufacturers. We are known as a trusted and forward-looking partner that promotes sustainability and combines experience, vision, and an understanding of the industry.
Our mission is to work together with our customers towards a green future for transport by ensuring that rail travel is the world's most comfortable way to get from one place to another.
Polarteknik, together with 17 other companies, belongs to the Dacke Industri AB group. Dacke Industri's business concept is to invest in innovative technology companies. Preferably with focus on own products, customer specific components and high-performance systems as well as value adding application knowledge. Dacke is organized in 4 divisions – Air Technology & Electromechanics, Fluid Power Technology, Electronics and Special Technologies. Polarteknik Oy is a part of Special Technologies.
Dacke is 100% owned by Swedish holding company Nordstjernan. Nordstjernan is an active owner that is involved in the long-term development of companies in sectors with growth potential and where we can add value.