Company
About Polarteknik Oy
Polarteknik is a specialist company that promotes comprehensive comfort and ecology in railway transport.
Our strengths include wide-ranging knowledge, in-depth expertise and long-term commitment.
We deliver reliable, sustainable and efficiently produced interior door systems for the world's leading train manufacturers. We are known as a trusted and forward-looking partner that promotes sustainability and combines experience, vision and an understanding of the industry.
Our mission is to work together with our customers towards a green future for transport by ensuring that rail travel is the world's most comfortable way to get from one place to another.
Polarteknik's value proposition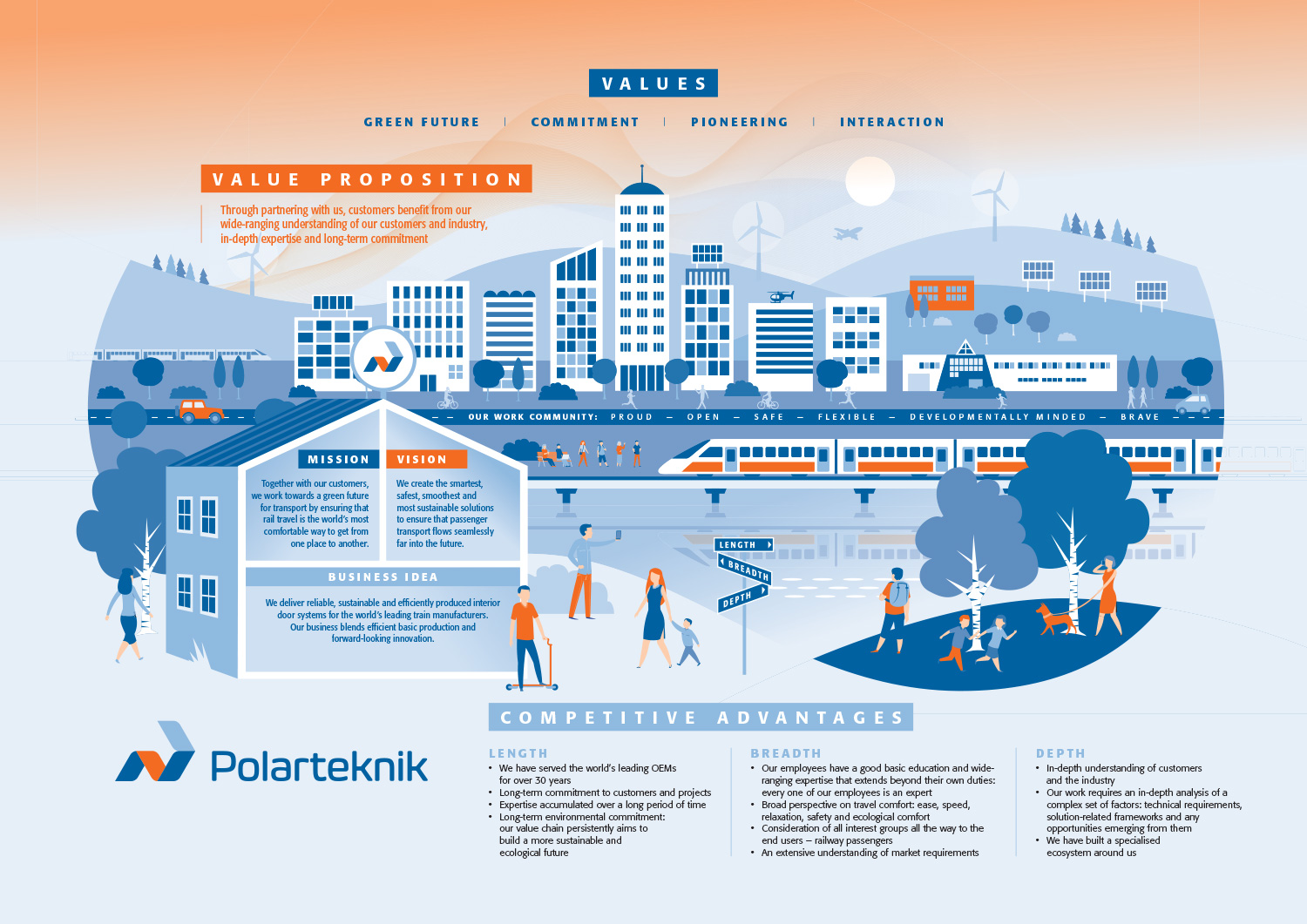 In January 2020, Polarteknik Oy (via its UK subsidiary Polarteknik UK Ltd) acquired the business and assets of Train Door Solutions Ltd, a UK-based company that specialises in servicing pneumatic and electrical door systems. The company, from its registered office in Milton Keynes, UK, provides services for leading train service companies, fleet owners and OEM manufacturers. Train Door Solutions and Polarteknik are together able to offer local support and service, as well as manufacturing services for OEM customers in the UK and other European countries.
About Dacke Industri
Dacke Industri is a long-term owner that invests in innovative technology companies focusing on customised components and systems. It adds industrial know-how and a strong network and maintains an entrepreneurial environment in its companies. The companies have a very high degree of autonomy, and Dacke follows a decentralised model.
Dacke Industri nurtures the long-term development of its subsidiaries and acts with a high degree of social responsibility. This is partly expressed through its Code of Conduct. Central parts of Dacke's Code of Conduct relate to safety, sustainability, doing business in an ethical way and also how it works to develop its employees.
About Nordstjernan
Nordstjernan AB is a family-controlled, unlisted investment company whose business concept is to be an active owner that creates long-term and positive value growth. Its business strategy is based on long-term ownership and developing listed and unlisted companies by contributing capital and expertise.
Nordstjernan's core values guide the company in its operations – and reflect what the environment can expect of them as an employer, partner and investor.